Where my Yerpeens at?
If I can get a visitor from Europe soon, I will have had a visitor from all 6 inhabited continents in my last 100 visitors.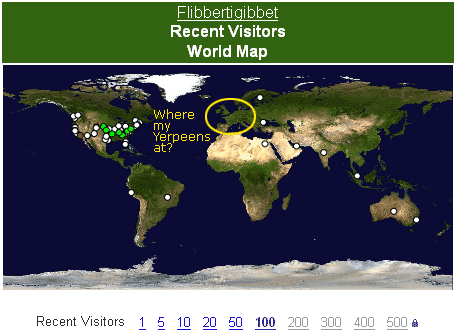 Wouldn't that be cool?
Also, people in Egypt, I know it's you coming here looking for shemales. Stop it. There is only one shemale picture on my website and it's not really all that juicy.
Update: I was thrown off by the distortion in the map, but the northernmost dot on that map comes from Finland! That means I had a visitor from every inhabited continent in my last 100 visitors! WOOHOO!
Posted by Flibbertigibbet at August 21, 2007 11:43 AM | TrackBack