A Really Good Pinot Noir: Sonoma Cutrer
Sonoma Cutrer is a Californian vineyard known for its chardonnay. I've never had it before, but that's what they're known for. However, in 1997, I am told, they started growing for Pinot noir and the 2002 is their inaugural vintage.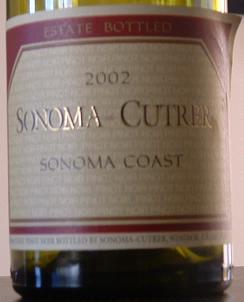 I was given the opportunity to taste this wine completely by a stroke of fortune. A charming man treated me to dinner and a concert some weeks back and the waitress raved about this wine. She told us about how it's the inaugural vintage and how it's only available in restaurants and there are only 9 restaurants in Georgia who serve it and they were able to get some 19 bottled of it.
Wine in restaurants is always marked up a bazillion percent, but this wine was just $60 for a bottle. Yes, pricey to my checkbook, but if I had known what was in store I would have paid up anyway.
Pinot noirs are very fun to me because I haven't had many and my experience has varied greatly. The ones I remember clearly are the Clos du Buois (Is that spelled correctly?) the Sebastiani and this one. I've listed them in order of my preference with the first one being not so good and this latest one being absolutely fantastic. (The Sebastiani is actually very good in my opinion.)
The thing that united Pinot noirs in my mind is the very strong finish. You drink it and it's pretty good and then you get punched in the neck with flavor and tannins. It's always a thrill to see how it's going to turn out.
My wine encyclopedia says:
Pinot Noir: This is one of the classic varieties of Champagne, although its claim to great fame lies immediately south in Burgundy. In the right place, under ideal climatic conditions, the Pinot noir can produce the richest, most velvet smooth wines in the world. Depending on climate and ripeness, its varietal flavour can range from cherries to strawberries.
My encyclopedia also references some particular Pinot being at its peak at 4 - 5 years, making this one particular wine somewhat young. How would I know, though?
The wine was a beautiful pink color. I'm actually looking for some socks in this color to go with a tie I have, but that's another story. It was a beautiful shade and the fragance was almost overpowering. The wine was served in glasses with nice, big bowls so, every time I took a sip I felt I might suffocate under the bouquet of this wine. I loved it.
The flavor was extraordinary. I would put this one closer to the strawberry end on the spectrum mentioned, but I am calling this from a memory several weeks old. Sadly, I didn't discuss the flavor with my date to get a better description. The finish was surprisingly smooth. It didn't attempt to choke me in tannins, but that isn't to say it wasn't nice and strong. Rather than being punched in the throat, this was much more like a comfortably firm handshake, um, to the throat.
I enjoyed this wine so much that I asked them to bag the bottle so that I could present it to you. I even recommended it to several people in my company. I thoroughly enjoyed it.
The restaurant was Murphy's in Atlanta, renown for its wine selection. I note them for their tendency to stack food. Sectional eaters do not fret! They will avoid the stacking if you ask them to.
So, if you get a chance, eat at Murphy's and try this wine.
Posted by Flibbertigibbet at
10:53 PM
|
Comments (0)