Maps of Strange
Mister Bookworm sent me this link to Maps of Strange this afternoon.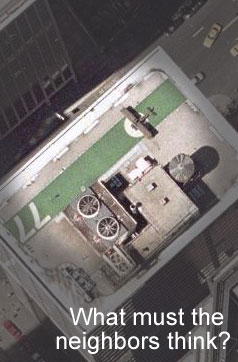 I thought the rooftop airstrip in Manhattan was kind of a stretch, but I looked it up in regular Google Maps and it's there! WTF? Can someone explain this to me?
Matt Chancellor, if you're reading this, what little plane do you know that could manage this? Does this seem real to you?
My coworker and I are skeptical of the idea of a plane scooting around Manhattan landing on a rooftop, particularly in light of the highly publicized plane crash that killed Corey Lidle last year.
Ok. My picture is really long, so I have to figure out ways to make this post longer.
I also like
- the crop circles advertising
- the Welcome to Cleveland sign that is on a rooftop in Milwaukee.
A couple of them are just people who don't understand Google Maps, like the tipped building entry is a result of piecing the maps together from multiple photos. Because the satellite took the picture from different locations, the lines of perspective don't always work well together. Cities with lots of tall buildings illustrate this "problem" best.
Also, a couple of them seem to me like the satellite caught a reflection of the sun on the surface of the ocean, but the readers of that site seem to think there are UFOs.
There are several other photos where people just don't seem to know how Google Maps are made. But it's a super cool site!
Posted by Flibbertigibbet at September 12, 2007 04:18 PM | TrackBack