A Special Wine: Not For Drinking
Sooooooooo... I choose wines for any number of reasons. Sometimes I spend a lot on a wine if it looks really good. Sometimes I buy cheap wine because I like the lable. Sometimes I pick one out just because it has a cool name. Sometimes I buy a wine just because I've never heard of it.
Well, I bought this wine because I liked the name and the price was right. I enjoy Shiraz for its bold, berry flavors and not-SO strong tanins. For me, shirazes are great for sipping by the fire or while watching a movie, so when I bought Moon Dog Acre's shiraz I was excited.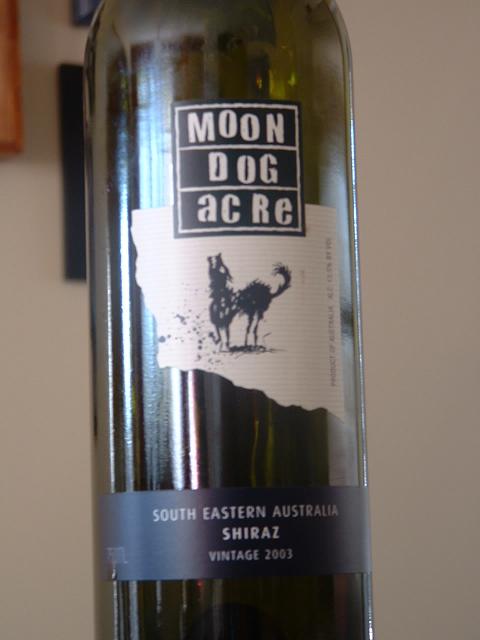 Isn't that a cool lable? I was so excited about it that I drank a glass with dinner.
I'm not an expert at wine tasting or anything, but I like what I like. Even so, I try to avoid strong descriptors of wines because there's a good chance that I can't appreciate a wine on the first taste.
This wine is swill. It's demon piss. It is water from which giant sewer goldfish flee in terror. Alcoholics will drink Scope before they'll drink this stuff. My hand to god, it's bad, dude. Real bad.
I drank a whole glass with my dinner and I was really, really upset about the notion of having to drink it for another four nights with dinner. I seriously considered pouring it down the drain, but I hate the idea of a waste. I thought, "Well, maybe it just needs to air out a bit. It'll be better in a couple of days."
Not so.
I took my car to the shop a couple days after I finished off this bottle and I rode in the courtesy van with a nice old lady who talked about wines. I made it a point to counsel her away from buying this wine. It's toxic waste.
Oddly, other people weren't not as amused by the name as I was. They acted as if I should have known it was bad just from that.
Though I disagree with that methodology, the results do speak for themselves.
Moon Dog Acre shiraz of the 2003 vintage is to be avoided and that's all there is to it.
Posted by Flibbertigibbet at December 18, 2004 11:06 AM