September 29, 2007
Civil Rights and the Jena 6
I really don't understand the protests from last week over the Jena 6. CNN kept saying that there was a civil rights march going on, but then they said it was in support of some hoodlums who beat some person within an inch of his life.
I am pretty sure that no part of our "rights" civil or otherwise entitle us to rousting a bunch of of friends and mauling hapless strangers.
So, I went and looked up on Wikipedia where we can always turn to complete, unbiased information on any topic:
The Jena Six refers to a group of six black teenagers who have been charged with the beating of a white teenager at Jena High School in Jena, Louisiana, on December 4, 2006. The beating followed a series of racially-charged incidents in the town. The six black students were initially charged with attempted second degree murder and conspiracy to commit attempted second degree murder.

The Jena Six case has sparked protests by those who believe that the arrests and the subsequent charges were excessive and racially discriminatory, alleging a lack of arrests and serious charges against white youths in Jena in earlier incidents in the town. U.S. Attorney Donald Washington—an African American and a Bush appointee — who led an investigation into events in the town, has concluded that there is no evidence of unfair prosecution.
Yes, it is relevant to this article to point out that a certain judge is both black and a Bush appointee. Nope, not bias there!
Anyway, the Wikipedia article, in spite of its additional information, does make clear the racial confusion going on in the town.
But what I understand from the article is that the protesters weren't there really in support of the Jena 6. They were protesting the alleged disproportionate charges against the Jena 6. From my very limited perspective on the matter, people don't seem to be protesting the idea that charges are brought against these characters.
This is certainly not the most apparent or egregious example of rights violation I've ever heard of.
If the charges are disproportionate, you challenge them in court. There are mechanisms for this sort of thing.
The argument is that the court system is biased against the defendants based on their race.
Even if we accept that the people in that area and the people in those particular courts are biased against the defendants, it doesn't follow that our entire legal system is racist. There are mechanisms for appeal. There are mechanisms for getting the case reviewed.
I am not inclined to go to the primary sources and review this case. But I don't see why no one has gone and done that, but taken out all of the references to race, just to see if the charges make sense.
What I am irritated about is the civil rights protest and, more than that, the idiotic attitudes about race that seem so popular. It's as if as an individual, I am expected to choose between the white supremacist racists or the non-white supremacist racists on the other side.
Ideas about race in the US are idiotic and I do think it is because of this whole multiculturalism thing that is so popular. As if the color of a person's skin gives them some particular insight into... well, anything. It's like that episode of Seinfeld where Elaine is dating a man that she thinks is black and he thinks she's Spanish, and they're both really thrilled about being in an interracial relationship, but it turns out that they're both regular, old white people.
Ok. I'm done with that. I do want to ask this: why are Spanish people considered non-white? I thought that was a country... a western European country, too. I know they were occupied by the Moors (See? It's not like they've never done it themselves.) and all that, but still. "Spanish" isn't a good adjective for a particular ethnicity.
Posted by: Flibbertigibbet at 04:23 AM | Comments (4) | Add Comment
Category: In the News
Post contains 664 words, total size 4 kb.


September 28, 2007
Gays Spot Legal Problem, Propose Flaboyantly Idiotic Response
Gaywired.com:
Passage of Historic Hate Crimes Act Hailed, Bush Veto Feared
The passage today of the Matthew Shepard Act by the U.S. Senate is being hailed as a "historic moment for equality" by gay rights organizations across the country. However, President George W. Bush has threatened a veto of the legislation, which the White House contends is unnecessary as existing law already covers the issue.
I am against hate crime legislation.
First of all, it's already illegal to kidnap people, drag them to the country, tie them to a fence post, beat them, and leave them for dead. I think this is probably one of the first laws ever made by people wishing to organize themselves into a state.
Among the other things that are illegal and rightly so:
- Vandalizing property that does not belong to you
- Hitting people without their permission
- Killing people without their permission
- Threatening people
- Menacing people
- Following someone around yelling foul things at them while they are trying to mind their own business and you're being a nuisance
It is stupid to pass a law that says that not only are you not allowed to do that, but you're ESPECIALLY not allowed to do it to someone because you don't like them because you're a bigot.
I don't know what your being a bigot has to do with anything, really.
Some people argue that these so-called hate crimes are worse than regular crimes because they function like terrorism. Say some gay person is beaten up for being gay, then all gay people get scared.
Someone should write a letter. It should go something like this:
Dear Straight People:

I hope this letter finds you well and that you are enjoying your regular sex. Sodomy is great; it's pretty much the same as since it was invented a bajillion years ago and going strong.

So, I heard from a friend of mine that there are some maniacs among you and not the good kind that remain confined to the floor. It is alleged that there are people among you who beat people up.

Yeah.

If you're not terrified of this, you're the maniac in question. Please turn yourself in. We have you surrounded.

Thanks!

Love
Gay people.

P.S. Hope you like the sodomy as much as we do.
In all seriousness, I'm terrified by the idea that there is someone out there robbing banks. I'm not a banker, but I regard that as a pretty serious problem. One that should be resolved by a high-speed chase, and ass-whuppin', and speedy and public trial, and a lengthy jail sentence. I'm sure the bankers in the audience would agree.
My point is that everyone is being terrorized when a crime is committed. As a friend of mine puts it: every crime is a hate crime.
The whole idea that your criminals get worse punishments for their crimes because they have particularly odious ideas is antithetical to the notion of freedom of thought, freedom of speech, or freedom in general.
I say, let's punish our criminals. Hard.
And then be done with it. George Bush should veto that Matthew Shepherd thing and also stop being just a homophobe, too.
Posted by: Flibbertigibbet at 01:03 PM | Comments (4) | Add Comment
Category: In the News
Post contains 544 words, total size 3 kb.


Naegleria fowleri
Yahoo! News:
6 die from brain-eating amoeba in lakes
PHOENIX - It sounds like science fiction but it's true: A killer amoeba living in lakes enters the body through the nose and attacks the brain where it feeds until you die.

Even though encounters with the microscopic bug are extraordinarily rare, it's killed six boys and young men this year. The spike in cases has health officials concerned, and they are predicting more cases in the future.

[...]

According to the CDC, the amoeba called Naegleria fowleri (nuh-GLEER-ee-uh FOWL'-erh-eye) killed 23 people in the United States, from 1995 to 2004. This year health officials noticed a spike with six cases — three in Florida, two in Texas and one in Arizona. The CDC knows of only several hundred cases worldwide since its discovery in Australia in the 1960s.

[...]

Beach said people become infected when they wade through shallow water and stir up the bottom. If someone allows water to shoot up the nose — say, by doing a somersault in chest-deep water — the amoeba can latch onto the olfactory nerve.

The amoeba destroys tissue as it makes its way up into the brain, where it continues the damage, "basically feeding on the brain cells," Beach said.

People who are infected tend to complain of a stiff neck, headaches and fevers. In the later stages, they'll show signs of brain damage such as hallucinations and behavioral changes, he said.

Once infected, most people have little chance of survival. Some drugs have stopped the amoeba in lab experiments, but people who have been attacked rarely survive, Beach said.

"Usually, from initial exposure it's fatal within two weeks," he said.
What a horrible and terrifying thing!
Read the article and spot the subtle endorsement of global warming.
Thanks to Orb McQuilkin for the article.
Posted by: Flibbertigibbet at 10:44 AM | Comments (2) | Add Comment
Category: In the News
Post contains 303 words, total size 2 kb.


September 24, 2007
Chillingly Laughable
Readers of my blog know that I pretty much hate the present Iranian President. I think he's a whacko. (Some readers of my blog do contend -- rightly, I think -- that even though he's a whacko, he's done less harm to Americans than our own whacko, Dubya.) Well, he gave a speech at Columbia U today.
When they announced that they were going to allow him to speak, lots of people were upset by this. I think they're right to be upset.
I also think that so long as the American government allows dictators to visit our shores as they do, Columbia is within its legal rights to allow him to speak. I point this out to be clear that the question here is not a political one but moral one.
Briefly on the political question: I don't think leaders like Ahmadinejad should be allowed in the country. If I were president, I would not meet with people like him except perhaps as a plot to kill him. Of course, if I were president, policies foreign and domestic would be radically different and I would have more leisure time in which to plan the assassination of dictators. Those scenarios are obvious fantasies.
On to the moral question.
President Mahmoud Ahmadinejad has nothing of value to communicate to any rational person. The notion that any good can come of allowing him to prattle on to Americans is an insult and, frankly, I can only imagine that it is out of morbid curiosity (and perhaps journalistic assignment) that any person in their right mind attended the speech. By the furor that many raised over his presence at Columbia, I also assume that others have made similar observations.
Even still, Columbia allowed him to speak and it was that furor that led Columbia University president Lee Bollinger to heavily qualify the presentation. Not to put too fine a point on it, he called Ahmadinejad a "petty and cruel dictator." True enough, but then he followed it with the perplexing assertion that "We do not honor the dishonorable when we open our public forum to their voices."
Now, I am assuming that the government did not in any way influence Columbia University's decision to allow Ahmadinejad to speak. In spite of receiving state funding, this was a private decision made by individuals on a quest to present the students of Columbia the broadest possible opportunities for a superb education.
I return to my point above that Ahmadinejad hasn't anything of value to teach us. He's a madman, so it begs the question of what this sideshow could possibly due to contribute to anyone's education. Surely we can get close enough to madmen through reports on CNN and descriptions in text books.
So, the claim is that it isn't an honor to address Columbia students to the benefit of their education. This is a bald contradiction.
Either presenting Ahmadinejad is of value or it isn't.
I suspect that Mister Bollinger suffers from the deplorable line of thinking that leads one to believe that everyone's point of view is worth consideration in itself simply by virtue of being someone's point of view.
Freedom of speech doesn't mean that anyone has to listen. So, do I think they should have given him a forum to speak? No. Do I think they should be charged with a crime? No.
I didn't mean to get on that rant. I really just wanted to point out this funny thing that I heard from Joe.My.God. he said.
In Iran, we don't have homosexuals like in your country. We don't have that in our country. In Iran, we do not have this phenomenon. I do not know who has told you that we have it.
Joe rightly responds with this:
Of course, what Ahmandinejad didn't say was that he keeps Iran free of homosexuals by killing them.
That Mahmoud kills me.
Posted by: Flibbertigibbet at 01:07 PM | No Comments | Add Comment
Category: In the News
Post contains 652 words, total size 4 kb.


September 21, 2007
Lines in the Head
NYT Headline: Fund-Raiser Is Held Without Bail
Makes you wonder what the story is about, huh?
Posted by: Flibbertigibbet at 10:48 AM | Comments (1) | Add Comment
Category: In the News
Post contains 24 words, total size 1 kb.


They're Probably Egoists, You Know
BBC News:
Police defend drowning death case
Police chiefs have defended two community support officers (PCSOs) who stood by as a 10-year-old boy drowned in a pond.

Jordon Lyon leapt into the water in Wigan, Greater Manchester, after his eight-year-old stepsister Bethany got into difficulties on 3 May.

Two anglers jumped in and saved Bethany but Jordon became submerged.

The inquest into his death heard the PCSOs did not rescue him as they were not trained to deal with the incident.
Mister Bookworm sent this article to me in light of recent discussions that have contained lengthy diatribes about drowning little children.
This case is very difficult to judge since I wasn't there and I do not know these Public Safety people or their swimming skills. Once upon a time I was a certified life guard, though, and the dangers of unskilled people leaping into unknown water are well-documented and clear.
What a horrible, horrible thing for a parent. And it is doubly frustrating to know that there were people present who had judged the situation such that they could not save the child.
This is certainly a tragedy.
But to those unfamiliar with the arguments here, I want to be clear that the title of this post is sarcastic; this incident cannot be judged as supporting or refuting ethical egoism.
Posted by: Flibbertigibbet at 07:13 AM | No Comments | Add Comment
Category: In the News
Post contains 226 words, total size 1 kb.


Dancing on Graves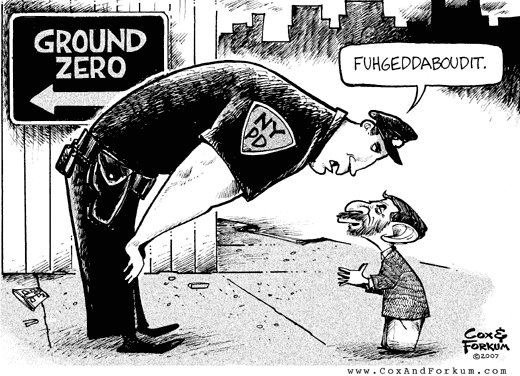 As you've probably heard, Iranian President Mahmoud Ahmadinejad AKA DJ Mack Mood AKA Lick Madinejad the Mad Thrillah AKA That whacko over there has asked to be allowed to visit the World Trade Center construction site.
Everyone has said no.
No. No. No.
Even Hilary Clinton announced that she recognizes it as unacceptable.
Of course, I agree, but part of me wants someone to figure out how would could drop a building on him when he's down in there. Or not a building, but a huge pile of American dollars. Enough to crush him, of course. Or maybe pour a large vat of boiling transfats on him while he's down there celebrating the death of Americans.
That man is vile.
Posted by: Flibbertigibbet at 04:19 AM | Comments (5) | Add Comment
Category: In the News
Post contains 123 words, total size 1 kb.


September 18, 2007
It's Not Right, But It's AWESOME
Reuters:
Man stripped, shaved for posting ads
BEIJING (Reuters) - Security guards in a southern Chinese city stripped and shaved the head of a man they found illegally posting advertisements on walls to earn a bit of money, a domestic newspaper reported Tuesday.

The victim, Xiao Liu, a 17-year-old migrant worker from the impoverished central province of Henan, was stripped to his underwear by about 10 men in Dongguan in the southern province of Guangdong, the Beijing News said.
Obviously, I do not want to be beaten and have my head shaved, but I can't tell you the number of times I've wanted to police to come tear my clothes off. I mean, in my mind it's usually just one or two. I don't have the imagination to project ten policemen doing that, I guess.
Who says China is a draconian backwater nation that perverts justice?
I don't know either, but I will keep an eye out for the video.
Posted by: Flibbertigibbet at 10:35 AM | No Comments | Add Comment
Category: In the News
Post contains 166 words, total size 1 kb.


September 17, 2007
Not Worth the Shower Rape
ETOnline:
Hit Ordered on Kevin Federline?
ET has several reliable sources that the FBI and LAPD are investigating legitimate leads on a contract hit on KEVIN FEDERLINE's life.

Multiple sources tell ET that the FBI made attempts to contact Federline to inform him of the potential danger.

Sources within the FBI tell ET that this is the bureau's standard operating procedure when someone's life is threatened.

ET has been working this story for the past two months. When contacted, the FBI told us that the bureau cannot confirm or deny an investigation.
There are so many more people that I'd like to see dead before Kevin Federline, so I find myself stumped trying to imagine the life of the individual who would want him dead badly enough to actually put a hit out on him. That kind of thing costs money, you know!
Did someone come back from a vacation in the Bahamas and just snap when they saw one more stupid-looking white person with cornrows in their hair? Was it someone who fell within earshot of his Popozão?
I really just don't understand this.
Secondly, why did the FBI have such a hard time reaching him? I know he has a cellphone because Britney told him she wanted a divorce by way of text messages and judging from his reaction, he takes text messaging seriously. Does the Federal BI not know how to send text messages?
yo k afawct sum sumbich wan u ded call me @ 911 4 deets
Finally, why is ET just now telling me about this? This is the whole reason they exist and it took them two months to break the news that someone wanted to snuff the Fedster?
You know what? I'll bet it was either Cheetoh or Redbull. I know Brit-brit isn't the best mom, but I'll bet that when they were threatened with the possibility of having to go live with daddy K-Fed, they turned to desperate measures. All we have to do now is find the hit man with spit-up on his shirt and we have our man!
Update: I was informed by a friend of mine that his turned out to be an exaggerated claim.
San Jose Mercury: Police close K-Fed threat probe
LOS ANGELES—Police investigated a possible threat against Kevin Federline earlier this year, but closed the case because of insufficient evidence, authorities said Monday. The Los Angeles Police Department probed the allegations in June, but later determined there was not enough information to keep the investigation active, LAPD spokeswoman Norma Eisenman said.

"There is no current investigation," Eisenman said.
Posted by: Flibbertigibbet at 08:52 AM | Comments (3) | Add Comment
Category: In the News
Post contains 437 words, total size 3 kb.


September 11, 2007
And Did You Know...
Britney went out without her panties on AGAIN! Right after the VMAs.
Access Hollywood: Britney's Post-VMA Party: No Panties Required!
LAS VEGAS, Nevada (September 10, 2007) – Hours after Sarah Silverman made a joke about Britney Spears' waxed genitalia on stage at the 2007 MTV Video Music Awards, the singer was caught with out her panties, hitting the strip.

Silverman made a joke about the birth of Spears' children during her opening VMA monologue saying, "...they are so cute. They are as cute as the hairless vagina they came out of."

The comedienne's joke appeared to reference an incident last fall, when following her split with Kevin Federline, Britney ventured out in Los Angeles where photographers caught her without underwear.

The photos, which surfaced today on gossip blogs including Dlisted, were taken last night in Vegas as Spears partied with her brother following her opening set at the VMAs.
*sigh*
That girl. I don't know what it's going to take for me to be just through with her. She's such a mess, but I still want to give her a hug, give her some panties, brush her hair, wipe the cheetohs off her face, sit her down and explain that she needs to act like a big girl now.
And then, I want to show her pictures of Reese Witherspoon and say, "Sweetheart, when you aren't on stage, you need to look and act like her."
THEN, I would demand that she hand over her pocketbook so that I can hire her a publicist, a nanny, and a full-time stylist and I'd explain, "Britney, you are a pop diva. You are not a domestic diva, so leave the child rearing to the professionals. You are also not a fashion oracle, so leave dressing yourself to the professionals. And I hate to say it, but when it comes to public speaking I actually trust George Bush (!!!) to speak extemporaneously more than I trust you. To address this, your publicist and I will handle the press and we will coach you on how to answer the questions. You may not speak to anyone in the press without speaking to us first."
Then, I would lead her over to the big, blue, bouncey ball of doom and say, "Hon, you are not fat, but you are not in the shape you were in when you made us all love you. Sit." And then I would show her all of her old music videos, paying close attention to the midriff baring outfit she was wearing in "Oops! I Did it Again." And then I would say, "Brit-brit, do you know the difference between you there and you here? 1,000 crunches a day and a rigorous dance schedule. We'll start slow. Give me three sets of 25 crunches on the ball. Make it quick, because I've booked you some time in the dance studio with your backup dancers and choreographer."
On the way to the dance studio, I would turn to her and put my hand on her knee and look deep into her brown (or are they blue today?) eyes and say, "I need you to understand something: there is an army of people working behind the scenes. We are Team Britney. Do not EVER insult, demean, or rage at Team Britney, least of all the person who is doing your hair. I don't know what you said to him last time, but after your workout this evening, we're going to dinner with him. Just you, me, him, and the publicist I hired. We're going to a nice restaurant and we have a cute, classy new dress for you and some nice panties. The press will love it and you'll love it even though cheetohs and red bull is nowhere on the menu. But, do you understand? Don't be mean to the help. We're the help because we're here to help. If you have a problem, tell me or tell your publicist. We will fix it."
But that will never happen. I heard a rumor a while back that she was going to have some kind of reality show where she was going to hire an assistant to help her get her career back on track, but obviously that never materialized.
I think Britney is over. She's white trash and she's somehow got it into her mind that she doesn't have to listen to anyone. So, now, everyone can see the mess that should be a completely private matter.
Maybe I can adopt Kylie Minogue instead. Her worst problems involve dressing like a European. A German one.
Posted by: Flibbertigibbet at 06:16 PM | No Comments | Add Comment
Category: In the News
Post contains 768 words, total size 4 kb.


Kathy Griffin Offends the Almighty, Gets Applause
I'm slow on the uptake on this one, folks, but I have to get it out there.
Yahoo! News: Griffin's Emmy remarks to be censored
LOS ANGELES - Before Kathy Griffin won a creative arts Emmy last weekend for her reality show, "My Life on the D-List," she joked that an award would move her to the C-list.

She was right: "C" as in censored. The TV academy said her raucous acceptance speech will be edited when the event, which was taped, is shown Saturday on the E! channel. The main prime-time Emmy Awards air the next night on Fox.

"Kathy Griffin's offensive remarks will not be part of the E! telecast on Saturday night," the Academy of Television Arts & Sciences said in a statement Monday.
Her exact quote according to Towleroad was:
A lot of people come up here and thank Jesus for this award. I want you to know that no one had less to do with this award than Jesus...Suck it, Jesus. This award is my God now.
Griffin is a self-described militant atheist and she has built her reputation on being offensive and edgy, so these remarks aren't really a surprise.
I disagree with Yahoo!'s use of the word "censored" to describe the actions of private concerns because it calls to mind and confuses the action with that of the government to suppress free speech. Let's do be clear: Kathy Griffin's right to free speech has not been violated. E! and the TV Academy are within their rights to not air her comment.
In response to Miss Griffin's remarks, Bill Donahue, president of the Catholic League, has demanded an apology and threatened her with the scarlet letter B for Bigotry if she doesn't comply.
The Academy of Television Arts & Sciences reacted responsibly to our criticism of Kathy Griffin's verbal assault on 85 percent of the U.S. population. The ball is now in Griffin's court. The self-described 'complete militant atheist' needs to make a swift and unequivocal apology to Christians. If she does, she will get this issue behind her. If she does not, she will be remembered as a foul-mouthed bigot for the rest of her life.
Since the word is bandied about so, I took the liberty of looking up "bigot" to see if it is something I should be worried about.
big·ot (bĭg'ət)
n. One who is strongly partial to one's own group, religion, race, or politics and is intolerant of those who differ.
Sweet baby Jebus' dirty Huggies! I'm a bigot!
I love how Bill Donahue appeals to the mob in his threat. 85% of Americans, huh? What about the other 15%? What about those, like myself, who are offended by his demand for apology? I think he's a bigot!
BILL DONAHUE IS A BIGOT!
I hope Kathy Griffin doesn't apologize to those people.
The simple fact of the matter is that you can't have any beliefs about anything without implying that the opposite belief is wrong and incompatible with [insert your epistemological method of choice here.].
Theism and belief in the supernatural in general is incompatible with reason. Reason and scientific thought in general is incompatible with faith.
Mysticism in general, and Christianity in particular, is an arbitrary assertion for something that has no supporting ever been presented and none can ever be presented. It's patently absurd, regardless of how many people subscribe to them, no one owes them the least bit of respect, admiration, or even silence when the opportunity for a funny joke is presented.
If mysticism weren't so pervasive, I would even say that the only proper way to address those ideas is with derision, mockery, and open, laughing disdain.
So, Jesus-freaks, get over yourselves already. Blasphemy is the new Thanks to the Academy.
Posted by: Flibbertigibbet at 10:51 AM | Comments (5) | Add Comment
Category: In the News
Post contains 628 words, total size 4 kb.


ENOUGH ALREADY.
It's been 6 years!
The events of 9/11 were tragic and heart-breaking. I'm glad that no one I know or worked with was killed or injured in the attack, but as New York is a symbol of the greatness of the humanity, it was still painful and sad.
Those who lost family or friends in the attack have every right to feel pain and loss regarding the event. I think it's proper for them to reflect on those events -- when they reflect on them -- with deep sadness.
But I also think those who lost family and friends must go on living their lives. I think it is wholly inappropriate to continue bemoaning the loss on a daily basis. I also think that the city-funded and endorsed memorial services that happen annually are beyond the pale.
This reading of the names of everyone who died... the putting construction on hold (as if it weren't going slowly enough already) ... the numerous moments of silence... the takeover of all the headlines... it's wallowing in the misery and pain!
CNN: 9/11 attack victims honored six years later
NEW YORK (AP) -- Relatives of World Trade Center victims bowed their heads in silence at a small park Tuesday to mark the moment exactly six years earlier when the first hijacked plane struck the towers. The dreary, gray skies created a grim backdrop, and a sharp contrast to the clear blue of that morning in 2001.

Construction equipment now fills the vast city block where the World Trade Center once stood, and work is under way for four new towers, forcing the ceremony to be moved away from the twin towers' footprints for the first time.

Kathleen Mullen, whose niece Kathleen Casey died in the attacks, said the park is close enough.

"Just so long as we continue to do something special every year, so you don't wake up and say, 'Oh, it's 9/11," she said.
I disagree with Miss Mullen. I think we do need to get to a point where we wake up and just say, "Oh, it's 9/11." I do not think it is necessary for all of us -- least of all city officials -- to do something every year. I think it is sick to forbid building on the former Trade Center towers' footprints in favor of a giant tombstone. I also think it is unseemly and morbid that these people conduct their mourning in public like this.
People have to mourn and express their emotions in the way that they see best for their lives, but this demand that the rest of the city, nation, world participate in it is sick and ridiculous. It is as if mourning has become the definition of existence.
Yes, please mourn for your losses. Give due recognition to the values that were destroyed in the terrorist attacks. But go on with life. Don't let loss become the motif of your life. Honor the memory of those who've died by living a life of happiness, success, and prosperity.
And also, let's kill all the terrorists and destroy the countries that harbor and support them.
Posted by: Flibbertigibbet at 05:18 AM | Comments (2) | Add Comment
Category: In the News
Post contains 524 words, total size 3 kb.


September 06, 2007
Is This Because of the Atomic Bombs or Global Warmings?
Reuters:
Leech invasion makes residents see red
TOKYO (Reuters) - Long confined to the mountains, Japanese leeches are invading residential areas, causing swelling, itching and general discomfort with their blood-thirsty ways.
That's right. Land leeches.
I think I speak for everyone who has never heard of such a thing before when I say, "What in the name of Athena's bull-testical bedazzled aegis?!?!"
They crawl into your socks and they're just a smidge longer than a half inch and they crawl out six inches long.
Here's my favorite part, though:
The real problem is that the bleeding won't stop and the affected area swells up and really itches.
Oh, yes. That is quite a problem, and it certainly does get one's attention, but I don't know if it really surpasses the importance of the basic fact that herds of land leeches are roving the suburbs of Japan.
The non-stop bleeding is a result of the first and I don't think that if you took the non-stop bleeding away that it would be ok to just let this go on. I don't care what the land leeches are doing, but they really aren't allowed to do it around me unless they are being carefully supervised and I certainly do not want to find out they've been napping in my socks.
Posted by: Flibbertigibbet at 12:39 PM | Comments (1) | Add Comment
Category: In the News
Post contains 228 words, total size 1 kb.


September 04, 2007
Arrested for Tapping Your Foot
Joe.My.God. had a quote
from some guy who apparently supports cruising public restrooms for sex who said of the Larry Craig incident, "I keep waiting for the news media to grab on to the fact that this man has been arrested for tapping his foot. When did that become a crime?"
This is kind of my point, except I would also point out that he did more than tap his foot. He touched the man in the next stall and he also made some hand gestures to the guy under the stall wall.
When you add all of these things up, now former senator Craig's behavior is wholly consistent with a person requesting public sex. Further, he was charged with disorderly conduct, not a lewd act or soliciting sex or anything like that.
Posted by: Flibbertigibbet at 09:09 AM | No Comments | Add Comment
Category: In the News
Post contains 138 words, total size 1 kb.


94kb generated in 0.1633 seconds; 76 queries returned 226 records.
Powered by Minx 1.1.4-pink.