August 31, 2004
Let's Talk About Values
CNN: Dole: Republicans steadfast on values
NEW YORK (CNN) -- Extolling what she called the core values of the Republican Party, Sen. Elizabeth Dole of North Carolina told conventioneers Tuesday night that the party has stood firm in its defense of marriage and the protection of unborn children.

[...]

But Tuesday, Dole unabashedly championed her party's conservative stance against same-sex marriage and in favor of the rights of the unborn.

"Marriage between a man and a woman isn't something Republicans invented, but it is something Republicans will defend," she said.
A value is something that one seeks to gain or maintain. In the case of same-sex marriage, what is it that Republicans value? What do they seek to gain or maintain?
They don't seek the priveledge of heterosexuals to marry because they already can. If we can infer from Senator Dole's statements, marriage exclusive to heterosexuals is 'something.' What something?
As far as anyone can tell from the blathering herd of mystics and altruists we lob together as 'conservatives' the something that the Grand Old Party is trying to preserve is either Christian values or tradition or maybe a mix of the two.
When it comes to preserving Christian values in America the GOP really does pick and choose. Technically speaking, polygamy is a Christian value. Technically speaking, keeping women plain, quiet, and pregnant is a Christian value. Technically speaking, abstaining from masturbation is a Christian value. Although I am not intimate enough with any conservatives to speak to their stances on these items, I would hazard to guess that these did not make it into the GOP platform this year.
11: Let the woman learn in silence with all subjection.

12: But I suffer not a woman to teach, nor to usurp authority over the man, but to be in silence.

13: For Adam was first formed, then Eve.

14: And Adam was not deceived, but the woman being deceived was in the transgression.

15: Notwithstanding she shall be saved in childbearing, if they continue in faith and charity and holiness with sobriety.

1 Timothy, Chapter 2, verses 11 through 15
Um. Senator Dole? Woman. Please sit down. I think a man needs to start talking.
So, CLEARLY, it's just some Christian values that the 'conservatives' among us wish to preserve.
I suppose that some will argue that marriage, unlike women being quiet, plain and pregnant--
You're wondering about the plain thing aren't you?
In like manner also, that women adorn themselves in modest apparel, with shamefacedness and sobriety; not with broided hair, or gold, or pearls, or costly array;

1 Timothy 2:9
and
But if a woman have long hair, it is a glory to her: for [her] hair is given her for a covering.

1 Corinthians 11:15
And of course
1: Likewise, ye wives, [be] in subjection to your own husbands; that, if any obey not the word, they also may without the word be won by the conversation of the wives;

2: While they behold your chaste conversation [coupled] with fear.

3: Whose adorning let it not be that outward [adorning] of plaiting the hair, and of wearing of gold, or of putting on of apparel;

1 Peter, chapter 3, verses 1 through 3
-- anyway, I was saying. Some might argue that marriage is the fundamental building block of society to Christianity. Not to beat y'all with the Bible, because I don't like it any more than you do, but...
7: For I would that all men were even as I myself. But every man hath his proper gift of God, one after this manner, and another after that.

8: I say therefore to the unmarried and widows, It is good for them if they abide even as I.

9: But if they cannot contain, let them marry: for it is better to marry than to burn.

1 Corinthians, Chapter 7, verses 7 through 9
Clearly, Paul didn't agree that marriage was necessary for the proper function of the church or society. He felt that marriage was only necessary to keep people from fornicating.
Fornication, as best as we can deterimine, simply means sex out of wedlock. Marriage, in the KJV Bible, does only refer to man and woman, although the historical record of marriage throughout Christianity has supported same-sex unions as well.
My point is just that the Bible doesn't assert that marriage is required for individuals or society. So-called conservatives are really just preserving arbitrarily chosen Christian values and arbitrarily chosen traditions.
What is particularly frustrating about this isn't so much their fondness of tradition but that they would put tradition above other values, such as Life, Liberty, and Property.
Idiots.
Posted by: Flibbertigibbet at 06:29 PM | Comments (2) | Add Comment
Category: In the News
Post contains 777 words, total size 5 kb.


August 29, 2004
Oral Fixation
TheLouisvilleChannelNews.com: Sex For Cigarettes: Local Inmate Confirms Trade
LOUISVILLE -- An inmate at the Jefferson County Jail confirmed that she gave a sheriff's deputy oral sex in a holding cell in exchange for two cigarettes.
I really wish that this woman came forward because she wants a state-sponsored smoking cessation program and not because she claims she was a victim. I think that'd be really, really funny.

From the looks of her, I think the deputy got ripped off.
Posted by: Flibbertigibbet at 01:38 PM | No Comments | Add Comment
Category: In the News
Post contains 86 words, total size 1 kb.


Missing All the Fun
I want to live in New York so badly! I made up my mind a couple of weeks ago that my primary goal is to move to New York in the next 18 months. I have no doubt that will happen, but in the meantime I'm still missing lots of fun.
Case in point: Protestors at the Republican National Convention.
CNN is talking about tens of thousands of protestors and you just KNOW they're saying all kinds of crazy things.
I was looking through their gallery of protestor photos and there's one of a guy dressed like a bomb. See?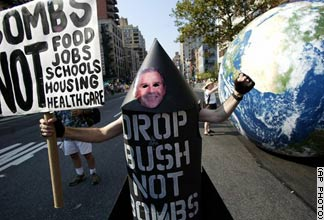 But look at the sign he's carrying. I don't know what the whole thing says but I am sure that his point is that the government should spend money on food, jobs, schools, housing, and healthcare instead of weapons for the military.
The purpose of the government is to protect the rights of individuals; it is not to provide people with their livelihood and look out for their personal well being apart from the protection of their rights. I realize that the lefty moonbats don't get that, but it doesn't make it less true or them less moonbatty.
I don't really care much about the Republican National Convention. I didn't really care much about the Democratic National Convention. But one of the features of this presidential election season is the fervor of the left against George Bush. Most Leftists I've spoken to aren't so much FOR John Kerry as they are just against Dubby. That is strange to me.
But what adds to the mystery of our situation is that the violent, frothy-mouthed, vitrolic screeching of the Left is matched only by the mocking, condescending attitude of lots of Righties.
Don't get me wrong, the Left is certainly laughable and their political ideals are worth nothing more than condescension, though I prefer open disdain. It's just that this kind of scale of protest was not seen at the DNC.
Why?
Probably because few can muster the energy to rail against the Democrats seriously for a long period of time. I mean, Michael Moore? Are you kidding me? No rational person takes that man seriously. But look at the rest of the list:
Hillary Marx-Clinton?
George Soros?
John "Reporting for Doodie" Kerry?
John "Breck Girl" Edwards?
Ted Kennedy?
Seriously? I mean, SERIOUSLY? These are the people they have?
I read an interview with John Kerry in GQ today in which John Kerry looked like that kid in school who would do ANYTHING to get people to like him.
Someone: Snake-eyes is my favorite GI Joe.

John Kerry: Oh! He's my favorite, too!

Someone else: I think Crazylegs is the best.

John Kerry: Oh! He's my favorite, too!
Except in the interview Kerry seemed like he was on speed.
I don't like Dubby, but I HATE John Kerry. I don't hate him because of his personality, which is very lacking. I hate him for his ideas. I hate him for the things he wants to do to this country. I hate him because him and the people who think like him are, have been, and will continue to be, the greatest, most direct, threat to freedom ever.
But I would wager that there is a large portion of those who just hate George Bush know much about what John Kerry is. They just hate Bush.
It's easy to dismiss this sort of thinking out of hand. It's absurd. It's ridiculous. It makes for such good mocking of protest signs, which is what I'm missing out on by not being in New York right now.
'Misunderestimating' the crazies on the Left, though, will be the thing that defeats Bush in November if he is to lose.
I don't mean that we should stop making fun of them. I just think we should pause occassionally to explain why they're so laughable.
Posted by: Flibbertigibbet at 01:16 PM | No Comments | Add Comment
Category: In the News
Post contains 651 words, total size 4 kb.


August 27, 2004
Yeah? Well, Canadians are... well... Canadian
CNN: Canadian MP calls U.S. 'idiots'
OTTAWA, Canada (Reuters) -- Canadian Member of Parliament Carolyn Parrish had said she hated "damned Americans" and called them bastards in the run-up to the Iraq war.

She found a new moniker, idiots, on Wednesday in discussing the planned U.S. missile defense system.

"We are not joining the coalition of the idiots. We are joining the coalition of the wise," the Liberal legislator told a small group of demonstrators.

[...]

"They tortured people in Iraq, they (the Iraqis) have no weapons of mass destruction. Could somebody explain to me whether you think they're idiots or geniuses?"
I'm not clear on how having a missile defense system correlates to idiocy exactly. I also did not realize that in life one has the option of being either a genius or an idiot-- not that I'm categorically opposed to hyperbole or invectives.
I feel obliged to correct the lady parliamentarian, though. First, it would be mild to point out as irresponsible her attributing the torture of some Iraqis in Abu Graeb by a few American soldiers whose actions are condemned almost unanimously to all Americans. Second, Iraq did have weapons of mass destruction. It may be claimed that massive stockpiles have not been found, but to say that no weapons have been found is factually untrue. That claim also ignores the extreme likelihood that WMDs were hidden or removed from Iraq in the days prior to the war.
But, let me be frank, I'm not really interested in debating either of those issues. I really don't even care that her statements impugn all Americans, really. Of course, the first thought is to assess the veracity of the claim, which is why I had to start with the above. Her remarks are patently false. That means I now feel obliged to consider the source of these remarks.
That's how I found this interesting articleabout Mrs. Parrish. Even though it is fairly out of date, it's very telling.
Some were prepared to dismiss her anti-American insult as an tactless off-the-cuff remark outside the House of Commons recorded by ultra-sensitive boom microphones. But a careful examination of her past reveals a track record of remarks so vile, and conduct so utterly lacking in human civility, that decent-minded voters of Mississauga will surely toss her out of office come the next federal election.

It turns out that Americans aren't the only objects of her hatred. Also on her personal blacklist are East Coast fishermen, French-speaking Quebecers, residents of downtown Toronto, members of her own Liberal Party, and even her boss, Jean Chretien.

[...]

Parrish's cheap shots often have a bullying tone, and stop just short of character assassination. Clashing with Beryl Ford, chair of the Peel Board of Education over the English as a second language program, Parrish threatened to "beat her up."
There's more, but I don't want to rip the entire article off, so go read it.
Then, I found this amusing and insightful post on another blog:
"I just think it's wrong on every front you can imagine. It would inspire some countries to design missiles that can get through it, so you are just going to accelerate that whole arms race. Our job as peacemakers in the world is to decelerate that." — Carolyn Parrish, Aug 18, 2004, Toronto Star

Yo, Carolyn, I hate to tell you this, but there are already entire countries plotting our (the West's) destruction, and they'll continue to do so regardless of whether the U.S. builds it's missile shield or not.
Madam Parrish, I may share with you a tendency toward strong opinions and a disregard for common courtesy when ired, but given the binary circumstance false dichotomy you've outlined for us, I'm afraid I have to shed all modesty and call myself a genius. You needn't lose hope, however, your idiocy has a cure: think.
I do so hope to never hear of this woman again.
Posted by: Flibbertigibbet at 11:37 AM | Comments (2) | Add Comment
Category: In the News
Post contains 659 words, total size 4 kb.


August 25, 2004
Kerry-isms
Someone start a list or a book somewhere. This should be big.
New York Times: Kerry Renews Call for Rumsfeld to Resign
Kerry says:

"The truth, which is what elections are all about, is that the tax burden of the middle class has gone up while the tax burden of the middle class has gone down."
This has got to be a personal best for Kerry. He managed to change positions in mid-sentence.
Found via Poor and Stupid AKA Donald Luskin
Posted by: Flibbertigibbet at 09:32 PM | Comments (5) | Add Comment
Category: In the News
Post contains 82 words, total size 1 kb.


John Kerry Admits He Was Never In Vietnam
I just caught this
on CNN.com
:
"I watch a lot of the cable news shows, so I understand that you were never in Vietnam," asked Stewart, host of Comedy Central's "The Daily Show."

"That's what I understand, too, but I'm trying to find out what happened," Kerry
So, he ADMITS that he lied! Ha HA! And this:
"Are you the No. 1 most liberal senator in the Senate?" he asked, joking about claims that Kerry is "more liberal than Karl Marx, apparently."

"No," Kerry answered.
Which is a bit of a trick question, because everyone knows that Karl Marx was replaced by his philosophical progeny for Senator of New York, although Kerry is still more liberal than her.
"Are you or have you ever flip-flopped?" Stewart asked.

"I've flip-flopped, flap-flipped," Kerry said
Again, he admits his duplicity. But then he hurls this ad hominem at the interviewer:
Stewart also sought answers to another hard-hitting question: "Is it true that every time I use ketchup, your wife gets a nickel?" The candidate's wife, Teresa Heinz Kerry, derived her wealth from her late husband, an heir to the Heinz food fortune.

"Would that it were," Kerry said.
That's low, dude. Low. But this this mysterious conclusion:
"You'd be amazed at the number of people who want to introduce themselves to you in the men's room," he said. "It's the most bizarre part of this entire thing."
I was not able to reach George Michael for comment.
Posted by: Flibbertigibbet at 12:21 PM | No Comments | Add Comment
Category: In the News
Post contains 252 words, total size 2 kb.


52kb generated in 0.0785 seconds; 70 queries returned 192 records.
Powered by Minx 1.1.4-pink.