June 28, 2007
June 26, 2007
Because I Can
From I Can Has Cheezburger!
Posted by: Flibbertigibbet at 03:04 AM | Comments (2) | Add Comment
Category: Happy
Post contains 8 words, total size 1 kb.


June 25, 2007
Time Waster of the Day
Defend Your Castle!
In this game you have to pick up the little guys and drop them from a high height and let them splat on the ground so that they can't break into your castle. You earn points for killing them which allows you to upgrade your castle.
One of the coolest parts is that you can convert your enemies to your cause and teach some of them to be suicide bombers.
Posted by: Flibbertigibbet at 11:58 AM | Comments (1) | Add Comment
Category: Happy
Post contains 78 words, total size 1 kb.


June 22, 2007
Happy Friday! Changes Coming
I slept in this morning and skipped the gym. It felt really good.
Anyway, my blog may be undergoing some more changes in the next couple of weeks as it sounds as if I will be migrating to a new blogging software. I'm excited about the change, but it also means that my blog template may jump around for a little while until I get it all worked out.
One thing I hope for on this sunny, beautiful, Gay Days Friday is that the RSS feed works better for reader Daniel who has given me feedback on its appearance but never to his satisfaction.
What's your Gay Day's wish?
Posted by: Flibbertigibbet at 04:18 AM | Comments (1) | Add Comment
Category: Happy
Post contains 113 words, total size 1 kb.


June 21, 2007
NEW UNDERWEAR!!!
I am so happy!
The other day I went to jockey.com and ordered a bunch of new underwear and undershirts.
I love new underwear and I love Jockey's sport line of briefs and boxer-briefs. They're so comfortable and they look really good, too!
So, I have a huge box of new undies under my desk right now. I can't wait to start wearing them!
(And, no, Britton, I will NOT post a picture of me trying them on.)
Posted by: Flibbertigibbet at 04:36 AM | Comments (3) | Add Comment
Category: Happy
Post contains 80 words, total size 1 kb.


June 17, 2007
You're Invited
Let's go sit up on my roof and watch the sun go down behind Manhattan.
I think there's some cold beer in the fridge and the weather is beautiful.
Posted by: Flibbertigibbet at 11:43 AM | Comments (2) | Add Comment
Category: Happy
Post contains 31 words, total size 1 kb.


June 15, 2007
Hot, Gay, and on Television
Ok. Listen to me, people: I don't care what you've heard or what you've been told.
Anderson Cooper
is not the hottest CNN anchor. That title goes to
Thomas Roberts
.
I'm not saying that Cooper is an uggo even if his face is a little bit pointy. I'm just saying that Thomas Roberts is way hotter.
Check it: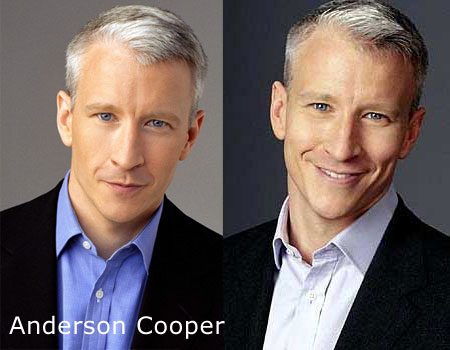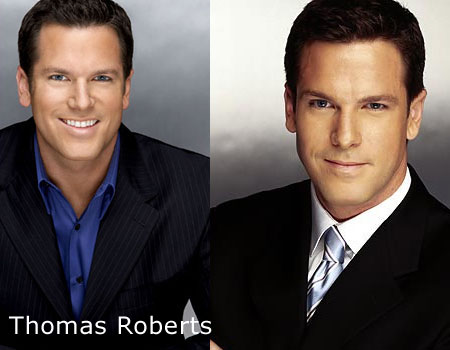 See?
They're both gay, although Anderson Cooper has declined to state his sexual orientation definitively much to the irritation of gay activists everywhere.
And can I tell you something that I hate about Anderson Cooper? I just hate how overwrought and emotional he seems on the news. In his much-lauded hurricane Katrina aftermath coverage the man nearly broke down into tears at every other sentence.
Maybe I'm showing what a heartless, little sociopath I can be. I understand that it was a traumatic scene, but he wasn't looking at dead bodies. He was looking at broken homes. Those aren't even close to the same in terms of lost values. A house versus a life or limb.
Anyway, it doesn't matter. Thomas Roberts is way steamier.
Update: I also just read that Playgirl ranked Cooper number three on their Sexiest Newscasters List in 2004 behind Sean Hannity and Keith Olbermann. Yes, Sean Hannity can be attractive (when he's not so heavy) but Keith Olbermann? This is why we can't take a publication like Playgirl seriously.
Posted by: Flibbertigibbet at 04:48 AM | Comments (10) | Add Comment
Category: Happy
Post contains 237 words, total size 2 kb.


Happy Friday, All!
I have to say: I am extremely relieved to have merged my two blogs. It makes things so much easier to keep track of.
In other news, I've made some significant progress recently in my job-hunt marketing plan -- something else I don't think I've discussed with you guys.
Basically, I have a marketing plan for finding a new job. It involves establishing my real identity out here on the global intarwebs. You'll recall that one of the reasons for merging blogs involved eroding the brand of my other blog, so to speak. (This is why I am asking you all to try to not reference the name of that other blog for a while! It is very near to my real name and I need Google to start looking somewhere else.)
Anyway, there's that.
Plus, I am working on starting a small business (More on this when the project actually launches. We're in the planning stages still.) with my best friend and I'm tickled to see that moving forward.
And my workout/diet is going well. Especially the diet. I've fallen into a good rhythm with when I eat and what I eat. It goes like this:
- Egg whites first thing in the morning when I wake up.
- A protein bar at 10am
- Lunch consisting of a turkey wrap & cottage cheese or a salad laden with egg whites, chickpeas, and turkey
- A protein bar at 3pm or a bunch of almonds
- Supper consisting of something like tuna steak or chicken breast or something.
And speaking of working out, I'm up to six days a week, which is kind of crazy. In my defense, on three of those days I'm only doing about 30 minutes of cardio. I'd like to do about 45 minutes to an hour of cardio on those days, though. I just can't swing that right now as I am still getting used to doing three days of weights.
And, you know, in spite of the fact that I am launching into a new job search, I will say that work is going reasonably well.
The romance department, as you know, is still without work or prospects. I have to say that it is pretty rough being without smooches right now, but I'm doing what I can to resolve that.
And I think I'm going to go with Justin's suggestion of "Flibbert" over "Flibby." I do kind of like the sound of it and it makes Justin happy. Who knows? Maybe he'd hot and he'll go gay on us.
And tonight I'm going to go see Mika in concert. That should be fun.
Oh! And on the roommate front, I think my frustration with The Law Student has subsided a bit. He wasn't home when I got in last night and didn't come in until about 10. Immediately, he started smoking, but I was busy doing something else and just closed the door to my room. I will have opportunities to confront him about it this weekend.
Speaking of the apartment, I'm going to be cleaning like a madman this weekend. The apartment is simply filthy and although we've made lots of improvements, there is just a general dirtiness about it that needs to be resolved immediately because I'm going nuts.
Once complete, I hope to discuss with The Actor and The Law Student some system of dividing/rotating responsibilities so that the place stays clean. In any case, things simply cannot persist as they have.
So, anyway, that's a summary of my life at present.
Posted by: Flibbertigibbet at 04:14 AM | No Comments | Add Comment
Category: Happy
Post contains 596 words, total size 3 kb.


51kb generated in 0.1771 seconds; 74 queries returned 203 records.
Powered by Minx 1.1.4-pink.