October 06, 2004
Tonight's Vintage: Routas Syrah 2000
I just opened a new bottle of wine to carry me through the rest of the week: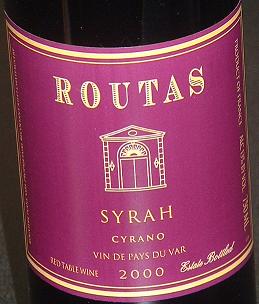 My wine encyclopedia says of the Syrah grape:
Syrah: A variety whose name, derived from Shiraz, the capital of Fars, a province of Iran, causes most people to believe that the vine must have originated in Persia, possibly as far back as 600 BC. In Hermitage, in the northern Rhone, the grape makes big, rich, tannic wines with a good deal of fruit.
I chose this bottle because of the pretty purple lable. I also knew that Syrah is the same as Shiraz but for locale and I've really enjoyed Shiraz in the past. There's also the cute subtitle, Cyrano, that I found charming. How nice to drink Freedom Wine!
The lable reads:

Cyrano de Bergerac was famous for his nose and for his passions. Syrah is a dark and fragrant grape that is also famous for its nose, and for the passions that it inspires when accompanied by flavorful and spicy foods. Cyrano is made entirely from particularly rich Syrah grown in the heart of Provence. It can be a serious pre-dinner drink but it is even better with steak or chicken cooked in a wine sauce.
I'm having Broccoli and Steak Skillet Sensations.
Since I just opened the bottle, I now take pause to inspect it. The color is indeed dark. It's more brown that the malbec I had this weekend. It's oddly not very fragrant.
My first sip is woefully underwhelming. I've had terrible wines before and this doesn't count as one of them. Initially, I taste nothing. I swish it around and I can pick up a taste that reminds me of spice and a background flavor of berry, which is why I've always liked Shiraz. It is definitely "tannic" meaning it makes me pucker; my oral epithelium feels raw as the wine passes.
pucker... oral epithelium... ummm... moving along...
All in all I am not terribly impressed with this one. I expected a bigger taste to it but I also suspect that my disappointment lies in the fact that this is a freshly opened bottle. I'm usually more impressed once it's had a chance to sit for a little bit in the air.
I'm now on my fifth sip and it is definitely improving...
Posted by: Flibbertigibbet at 03:30 PM | No Comments | Add Comment
Category: Happy
Post contains 391 words, total size 2 kb.


October 04, 2004
Tonight's Vintage: Budini Malbec 2002
Tonight's wine is the 2002 Malbec by Budini vineyards, which is in the Mendoza region of Argentina.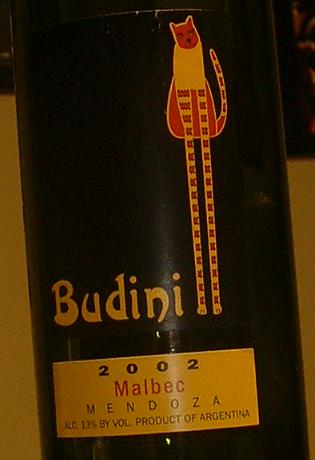 I decided to buy a Malbec because I wanted something different and I was standing in the South American section of the wine store. I bought this particular brand because of the funny cat on the bottle. The lable on the back says:
Budini, the rare and beautiful wild Pampas Cat of Argentina, has always been elusive, both in the open grazing lands and in the Andean foothills. our delicious and reasonably priced Budini wines from Argentina are far easier to track down. Using great care and attention both in the vineyards and winery, we produce wines that are bursting with ripe fruit flavors and easy to enjoy.
I am by far no expert, but I believe that those kitties do not have legs that long. But the first thing I taste with this wine is spice. Lots of spice, then a deep fruit flavor.
Since I only drink one glass of wine a night, it takes me a while to finish a bottle. Tonight is the last glass of this wine and so the flavor has changed a bit since I first opened it, late last week.
As I recall, the fruit flavors were more pronounced at first, but it had the tang of a freshly opened bottle. I would say it is still very good even though it was stored at room temperature and has been open for at least four days. Now, the spice of the wine is more prominent, but the finish lasts in a nice way.
My Wine Encyclopedia says of the Malbec grape:
Malbec: This grape is traditionally used in Bordeaux blends in order to provide colour and tannin. It is also grown in Loire, Cahors, and Mediterranean regions, among many others, and was the grape responsible for "The black wine of Cahors" -- a legendary name, if not wine, in the 19th century. However, Cahors is now made from a blend of grapes and is an infinitely superior wine to its predecessor.
I'm sure I know nothing about that except to say that this wine has a very pretty color; it's a nice, clear, bright purple-red.
Posted by: Flibbertigibbet at 04:14 PM | No Comments | Add Comment
Category: Happy
Post contains 375 words, total size 2 kb.


29kb generated in 0.0876 seconds; 66 queries returned 167 records.
Powered by Minx 1.1.4-pink.